In
this post
Eric said:
I haven't recalibrated the Claimed Credit values because I was surprised to find out that on average our Granted Credit is about 10% higher than the CPU time derived credit.

I'll post some plots.

Eric
I'd really like to see those plots, and think others would also find them interesting.
Meanwhile, I've done some plotting too.
I finally got around to doing some analysis of a large enough set of angle ranges to get some approximate statistics on the angle range distribution. The set is derived from 1561 WUs I've crunched since August 2000, plus 6581 another participant crunched between July 2003 and September 2005. I removed two from the set before analysis, one with AR 19.310 and the other with AR 40.320; those were probably glitches which won't repeat. Obviously most of the data is from classic WUs, that makes no difference because they're the same duration and number of data points as those for seti-boinc.
Anyhow, here's a graph with three plot lines related to the set of 8140 WUs: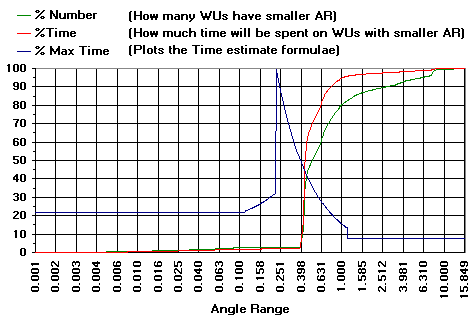 For those who want to see more detail, there's a
950 x 628 pixel version
.
From the green % Number line, you can see that 50% of the WUs were at angle range 0.514 or smaller. But that is not really very important for enhanced.
The Red % Time line shows that about 50% of crunch time will be spent on WUs with AR less than 0.436, and that 90% of the time will be spent on WUs with 0.39 to 1.2 ARs.
The dark blue line simply shows graphically the shape of the time estimates calculated from the splitter source code. Ingleside's tables have shown samples from the same series.
I'm not sure what Eric's "on average" implies, but any comparisons obviously need to be heavily weighted to the dominant range of work.
Note: The reason my plots use a logarithmic horizontal scale is that otherwise the data is squeezed into the leftmost 1/16. The cumulative presentation provides more useful data, even though it is not as familiar as a straightforward distribution histogram. I did produce a
partial linear scale histogram
which shows the small peak for very low ARs, and also shows that 1553 of the WUs (19% of the total) are within the 0.42 to 0.43 range.
                                             Joe